A once in a lifetime student travel opportunity
Be part of the change as one of the Caribbean's most popular beach destinations goes green
PUERTO PLATA, DOMINICAN REPUBLIC— After a 30-year boom-to-bust cycle one of the Caribbean's most famous tourist destinations is undergoing a major transformation as millions of dollars of international development funding are being invested to:
develop and re-brand Puerto Plata as a unique travel experience not just the typical fun'n'sun beach holiday
create sustainable tourism opportunities out of some 500 natural and cultural attractions that exist in the region
engrain/ensure sustainable and eco-sensitive best practices
stimulate tourism into rural villages to help those poor communities
As a student, you can be part of this exciting project:
visit and study the traditional tourism models (resorts, attractions, excursions) and learn the history of a tourist destination, how and why things went from boom to bust
visit NGO's and rural villages, see how local people are working on projects to create their own opportunity, and how international cooperation is helping them
study the processes, methodologies and challenges of community and economic development and how they fit together
volunteer and learn Spanish as you immerse and work shoulder to shoulder with young Dominicans in their village to help blaze a trail, build a lookout or create a campsite
meet and talk with tourism business owners, community development experts and tourism authorities
study the impact of the Dominican Republic's social programs and policies regarding education, health and human development
submit a team report prepared to local authorities outlining your observations and suggestions
But – it's not all work!
Along the way you'll be "testing" beaches and boat trips, "inspecting" trails and hidden waterfalls, "surveying" tony beach resorts and remote mountain hamlets, "researching" tropical Dominican dishes and "studying" how locals dance bachata.
And you'll be doing it all, not like just any tourist but as a behind-the-scenes participant, like a journalist with a press pass, as you are received and hosted by dozens of key stakeholders who are working real-time in the re-launching of this major Caribbean destination.
Visit, learn, write your own story…
This program is appropriate for college and university students studying:
Tourism
Anthropology
Sociology
Social Sciences
Social Enterprise
Economics
International Studies
Community Development
Journalism
Education
Environmental Studies
Marketing
All of these disciplines come into play in a once in a lifetime project that is having historical impact on the most important economic activity (tourism) of the entire province of Puerto Plata. One of the greatest insights will be seeing how all of these disciplines interact, and in discovering that the "answers" aren't always easy. Your assignment will be to plan with your professor, do the research and write the story as it applies to your area of study.
Itineraries
School Groups: Itineraries are customized for school groups of 10+
Individuals: Inquire for dates
Cost: $2400 plus airfare and travel insurance
Typical 2-week program (14 nights, 15 days):
2 travel days (first and last)
4 days / visit, study the traditional tourism model; resorts, locations, attractions
4 days / visit, study sustainable, eco-tourism and community development tourism model
4 days / work on a community service project / help build a campsite, blaze a trail, etc
1 day / de-briefing workshop followed by a community social event
Program includes several Spanish language workshops, relevant documentaries, Q&A with local experts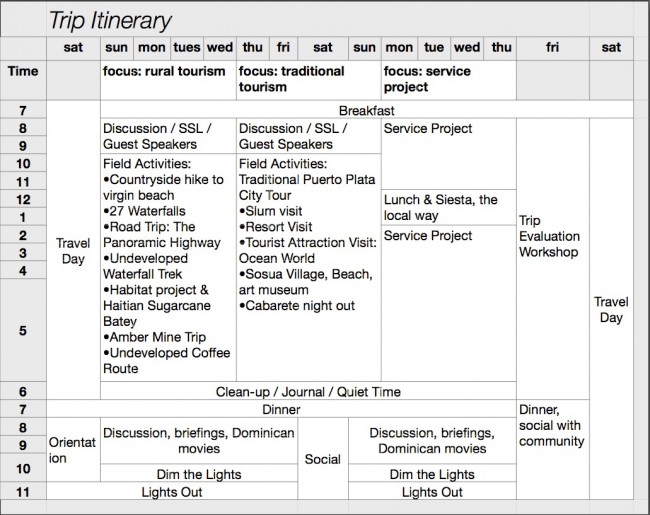 Filed Under: Vacation Suggestions • Social Impact